Vice President Leni Robredo bashed the burial of the late president Ferdinand Marcos at the Libingan ng mga Bayani on Friday, November 18, said that "he is no hero."
The anti-Marcos protesters who are few was caught by surprise since the burial was only announced by Philippine National Police (PNP) chief Director General Ronald dela Rosa about an hour before it took place.
Robredo said in a statement on Friday, "Like a thief in the night, the Marcos family deliberately hid the information of burying former president Marcos today from the Filipino people. They obviously flouted the law where the decision does not become final and executory until 15 days or the resolution of the MR."
"As stated in several decisions from the Supreme Court, Ferdinand Marcos was a thief, a murderer, and a dictator. He is no hero. If he were, obviously his family would not have to hide his burial like a shameful criminal deed," the Vice President also said.
"We are disturbed that this happened in coordination with AFP and PNP, demonstrating further that the judicial process has been thoroughly disregarded," said the Vice President.
"This is nothing new to the Marcoses – they who had hidden wealth, hidden human rights abuses, and now, a hidden burial – with complete disrespect for the rule of law," said Robredo.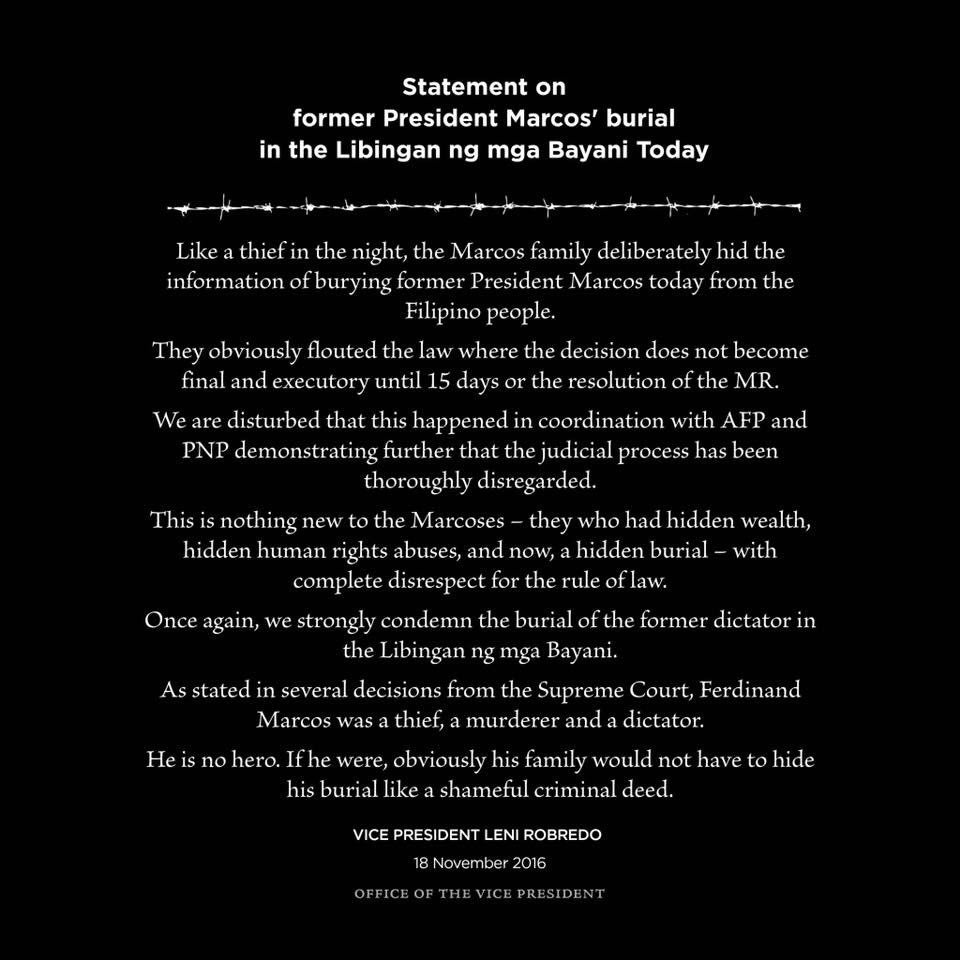 Well it's still fresh in the Filipino people's mind what happened last election, when there was a sudden surge in Robredo's vote late at night when everyone was sleeping.