** It was reported that one of the suspect is named Syed Farook.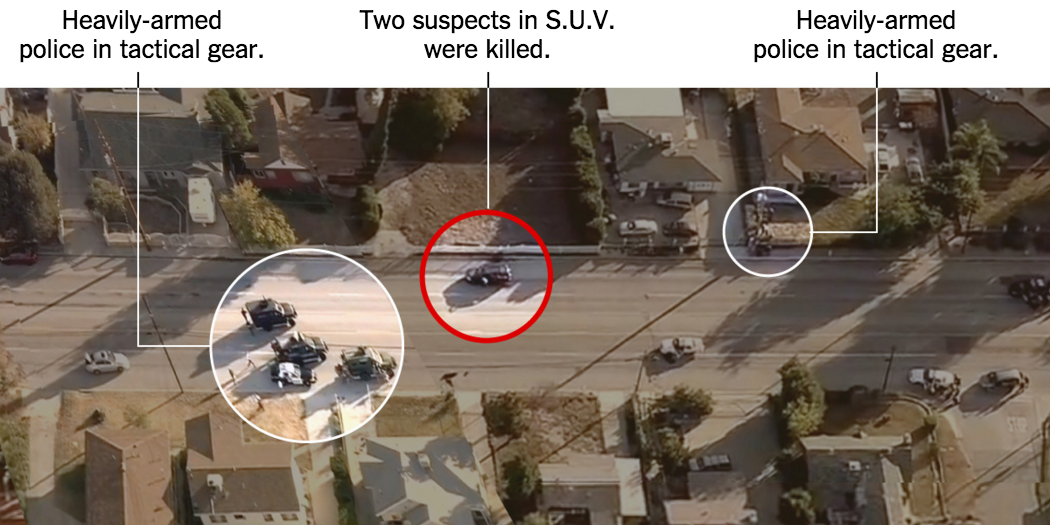 At least 14 people were killed and 17 others wounded when gunmen opened fire at the Inland Regional Center Wednesday, triggering a massive manhunt that ended with two suspects dead after a high-speed police chase.
At least 14 people were killed and 17 others injured in a shooting at the Inland Regional Center in San Bernardino, Calif., Wednesday.
Up to three gunmen opened fire inside the facility — which serves people with developmental disabilities — and fled in a dark SUV, police said.
Hours later, an SUV matching the description led police on high-speed chase during which shots were fired at police.

Two suspects — one male, one female — were killed during the police pursuit. Both wearing tactical gear and carrying assault rifles and handguns.

One officer was wounded and transported to a local hospital with non-life-threatening injuries.

Another person, a male who was seen leaving the area, was taken into custody. It's unclear if that person was involved in the shooting earlier in the day.

The gunmen were armed with long guns and were wearing what appeared to be ski masks and vests, witnesses said.

"These were people who came prepared," San Bernardino Police Chief Jarrod Burguan told reporters. "They came in with a purpose, with an intent to do something."

Burguan added: "We have no information at this point to indicate that this is terrorist-related, in the traditional sense that people may be thinking. Obviously, at a minimum, we have a domestic-terrorist-type situation."

A suspicious device left at the center is "believed to be an explosive device," he said.
Officials are searching an apartment in Redlands, Calif., in a raid related to the rampage.
President Obama called for stricter gun control in the wake of the shootings.
It is believed to be the deadliest mass shooting in the United States since Sandy Hook.
UPDATE: Suspect ID'd in San Bernardino Massacre as Syed Farook
Source: DailyBeast
Police officials have identified Syed Farook as one of the suspected shooters who attacked a center for the disabled in San Bernardino, California, according to NBC News. The Daily Beast has learned that the police have just executed a search warrant at a Redlands, California address—an address that belongs to Farook's family.
Source: http://www.thedailybeast.com/articles/2015/12/02/police-id-suspect-in-san-bernardino-massacre-as-syed-farook.html