**** Liberal Party wants another power grab! Hindi na nahiya, hindi na nagsawa sa kapangyarihan
NEW YORK — Filipino-American community leader Loida Nicolas-Lewis who was identified by President Rodrigo Duterte as the woman who is behind the plot to remove him from power is now asking him to resign and give the Presidency to Vice President Leni Robredo (Liberal Party).
"So his promise I will resign in 6 months if the drug epidemic is not solved, he should be true to that promise at least, no extension, resign now President Duterte," she said.
Nicolas-Lewis said she has now joined the call for Duterte's resignation after Vice President Leni Robredo was allegedly eased out of the president's cabinet.
Robredo was fired from her job as housing czar after Malacanang was disappointed with her work ethics and poor performance she was ordered to stop attending cabinet meetings. Robredo vowed to protect and not allow the vice presidency to be 'stolen' from her, which many believe have been stolen from former senator Bongbong Marcos due to irregularties in the last election. Marcos filed a protest and is asking for a recount which experts say that will favor Marcos since the Comelec automatic count is dubious.
Nicolas-Lewis said during a recent trip to China, Duterte has even "joked" that if Marcos wins his electoral protest, the Philippines would have a new vice president.
"President Duterte wants Bongbong Marcos to be your president. Matakot kayo, matakot kayo, matapos na magnakaw, magiging silang ruling body again. Resign now, let VP Leni become president and she will do it for you, without killing anybody," she said.
Plan B to remove Duterte is Real:
Look Sen. Trillanes visited New York who do you think he saw?:
Even Leni Robredo went to New York to speak at the national empowerment conference of the National Federation of Filipino American Associations (NaFFAA) kuno....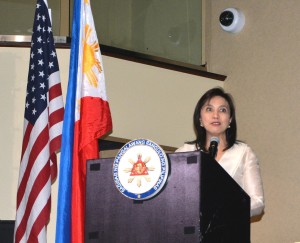 https://globalnation.inquirer.net/142515/142515
*Tatak Dilawan tatak magnanakaw!
source:
http://news.abs-cbn.com/overseas/12/06/16/fil-am-leader-joins-calls-for-duterte-to-resign